The MA in Global Risk (online) is a part-time, cohort-based program that is completed over 21 months through a sequence of 12 courses (50 credit hours). The coursework is designed to help graduates change careers or build new skills to advance in their current roles. This program will challenge students' critical thinking skills and their ability to solve incredibly complex, global problems.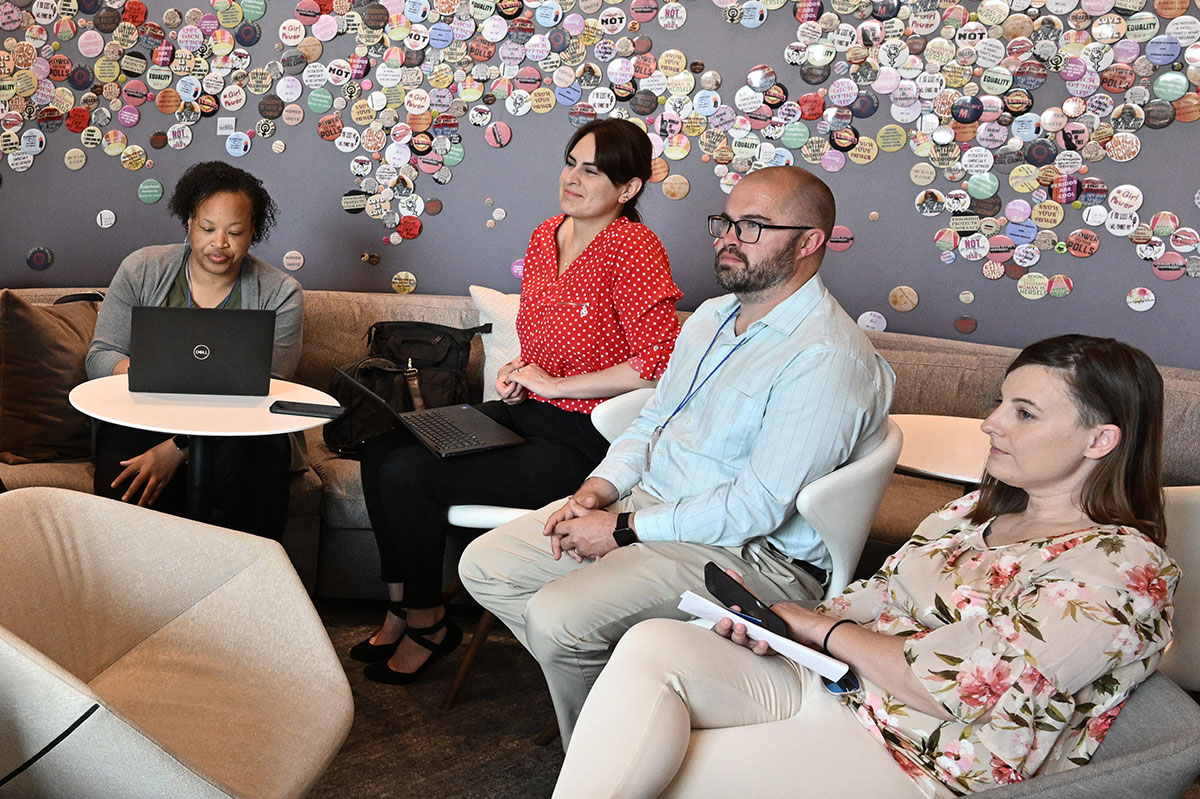 The program aligns with the school's focus on developing a core understanding of international relations and practical application skills, while strengthening the knowledge areas:
Global economics and international trade
Approaches and frameworks for understanding risk
Adapting risk management strategies in dynamic environments
Primary risk management challenges and opportunities in different areas of the world
In addition to online coursework, the program features two in-person residencies in the Johns Hopkins SAIS campus in Washington DC. The second residency includes the capstone project presentation as well as commencement. Visit our residency experience page for more information.
Request Information
To learn more about the MA in Global Risk (online) and download a brochure, fill out the fields below, or call +1 410-648-2495 or toll-free at +1 888-513-5303 to talk with one of our admissions counselors.
*
All Fields are Required. Your Privacy is Protected.
What drew me to Johns Hopkins SAIS was the promise of a world-class experience and interactions with professionals working in the field. The program showed me opportunities I had never experienced before, and it has opened up new career possibilities.
---
---
Course Descriptions
Optional Non-Credit Course
This non-credit course is a unique opportunity to gain practical knowledge of data science and R programming within the context of international relations and policy. Students will become familiar with basic R programming, data visualization, and descriptive statistics. Visit our course page for details. You do not need to be a current or accepted JHU student to take "Data Science and R: An Introduction."
Note: This course is not part of the MA in Global Risk curriculum and does not count toward credits for the program.
---
Program Schedule
Year One
Term
Course
Duration
Block 1
Mathematics & Statistics
8/30/21 – 10/24/21 (8 weeks)
Microeconomics & International Trade Theory
10/25/21 – 12/23/21 (8 weeks)
Thanksgiving Break
11/22/21 – 11/26/21 (1 week)
Winter Break
12/24/21 – 1/2/22 (1 week)
Block 2
Static Models for Understanding Risk
1/3/22 – 2/27/22 (8 weeks)
Economics of Global Markets
2/28/22 – 5/1/22 (8 weeks)
Spring Break
3/21/22 – 3/25/22 (1 week)
Systemic Approaches to Understanding Risk
5/2/22 – 6/26/22 (8 weeks)
Statistical Analysis and Financial Management
6/27/22 – 8/21/22 (8 weeks)
Residency
Europe Residency
8/22/22 – 8/26/22 (1 week)
Year Two
Term
Course
Duration
Block 3
Risk and Crisis in the Global Economy
8/29/22 – 10/23/22 (8 weeks)
Capstone
10/24/22 – 12/23/22 (8 weeks)
Quantitative Models for Risk Assessment
10/24/22 – 12/23/22 (8 weeks)
Thanksgiving Break
11/21/22 – 11/25/22 (1 week)
Winter Break
12/24/22 – 1/22/23 (4 weeks)
Block 4
Capstone
1/23/23 – 3/19/23 (8 weeks)
Understanding Risk in Complex Environment
1/23/23 – 3/19/23 (8 weeks)
Capstone
3/27/23 – 5/21/23 (8 weeks)
Regions of the World 1
3/27/23 – 5/21/23 (8 weeks)
Regions of the World 2
3/27/23 – 5/21/23 (8 weeks)
Spring Break
3/20/23 – 3/26/23 (1 week)
Residency
Washington DC Residency
5/22/23 – 5/24/23 (3 days)
Graduation
Commencement Ceremony
5/24/23
Year One
Term
Course
Duration
Block 1
Mathematics & Statistics
1/3/22 – 2/27/22 (8 weeks)
Microeconomics & International Trade Theory
2/28/22 – 5/1/22 (8 weeks)
Spring Break
3/21/22 – 3/25/22 (1 week)
Static Models for Understanding Risk
5/2/22 – 6/26/22 (8 weeks)
Economics of Global Markets
6/27/22 – 8/21/22 (8 weeks)
Residency
Europe Residency
8/22/22 – 8/26/22 (1 week)
Block 2
Systemic Approaches to Understanding Risk
8/29/22 – 10/23/22 (8 weeks)
Statistical Analysis and Financial Management
10/24/22 – 12/23/22 (8 weeks)
Thanksgiving Break
11/21/22 – 11/25/22 (1 week)
Winter Break
12/24/22 – 1/1/23 (1 week)
Year Two
Term
Course
Duration
Block 3
Risk and Crisis in the Global Economy
1/2/23 – 2/26/23 (8 weeks)
Quantitative Models for Risk Assessment
02/27/23 – 4/30/23 (8 weeks)
Capstone
2/27/23 – 4/30/23 (8 weeks)
Spring Break
3/20/23 – 3/24/23 (1 week)
Understanding Risk in Complex Environment
5/1/23 – 6/25/23 (8 weeks)
Capstone
5/1/23 – 6/25/23 (8 weeks)
Regions of the World 1
6/26/23 – 8/20/23 (8 weeks)
Regions of the World 2
6/26/23 – 8/20/23 (8 weeks)
Capstone
6/26/23 – 8/20/23 (8 weeks)
Residency
Washington DC Residency
8/21/23 – 8/24/23 (3 days)
Graduation
Commencement Ceremony
8/25/23
Year One
Term
Course
Duration
Block 1
Mathematics & Statistics
8/29/22 – 10/23/22 (8 weeks)
Microeconomics & International Trade Theory
10/24/22 – 12/23/22 (8 weeks)
Thanksgiving Break
11/21/22 – 11/25/22 (1 week)
Winter Break
12/24/22 – 1/2/23 (1 week)
Block 2
Static Models for Understanding Risk
1/3/23 – 2/26/23 (8 weeks)
Economics of Global Markets
2/27/23 – 4/30/23 (8 weeks)
Spring Break
3/20/23 – 3/24/23 (1 week)
Systemic Approaches to Understanding Risk
5/1/23 – 6/25/23 (8 weeks)
Statistical Analysis and Financial Management
6/26/23 – 8/20/23 (8 weeks)
Capstone Residency 1
8/21/23 – 8/25/23 (1 week)
Year Two
Term
Course
Duration
Block 3
Risk and Crisis in the Global Economy
8/28/23 – 10/22/23 (8 weeks)
Capstone
10/23/23 – 12/22/23 (8 weeks)
Quantitative Models for Risk Assessment
10/23/23 – 12/22/23 (8 weeks)
Thanksgiving Break
11/20/23 – 11/24/23 (1 week)
Winter Break
12/25/23 – 1/21/24 (1 week)
Block 4
Capstone
1/22/24 – 3/17/24 (8 weeks)
Understanding Risk in Complex Environment
1/22/24 – 3/17/24 (8 weeks)
Capstone
3/25/24 – 5/19/24 (8 weeks)
Regions of the World 1
3/25/24 – 5/19/24 (8 weeks)
Regions of the World 2
3/25/24 – 5/19/24 (8 weeks)
Spring Break
3/18/24 – 3/22/24 (1 week)
Capstone Residency 2
5/20/24 – 5/22/24
Graduation
Commencement Ceremony
5/23/24
Year One
Term
Course
Duration
Block 1
Mathematics & Statistics
8/28/23 – 10/22/23 (8 Weeks)
Microeconomics and International Trade Theory
10/23/23 – 12/22/23 (8 Weeks)
Thanksgiving Break
11/20/23 – 11/24/23 (1 Week)
Winter Break
12/23/23 – 1/1/24 (1 Week)
Block 2
Static Models for Understanding Risk
1/2/24 – 2/25/24 (8 Weeks)
Regions of the World 1: Europe
1/15/24 – 2/11/24 (4 Weeks)
Economics of Global Markets
2/26/24 – 4/28/24 (8 Weeks)
Spring Break
3/18/24 – 3/22/24 (1 Week)
Quantitative Models for Risk Assessment
4/29/24 – 6/23/24 (8 Weeks)
Systemic Approaches to Understanding RIsk
6/24/24 – 8/18/24 (8 Weeks)
Residency
Capstone Residency
8/19/24 – 8/23/24 (1 Week)
Year Two
Term
Course
Duration
Block 3
Risk and Crisis in the Global Economy
8/26/24 – 10/20-24 (8 Weeks)
Regions of the World 2: Americas
9/9/24 – 10/6/24 (4 Weeks)
Regions of the World 3: Indo-Pacific
10/21/24 – 11/17/24 (4 Weeks)
Regions of the World 4: Middle East and Africa
11/18/24 – 12/22/24 (4 Weeks)
Thanksgiving Break
11/25/24 – 11/29/24 (1 Week)
Winter Break
12/23/24 – 1/5/25 (1 Week)
Block 4
Statistical Analysis and Financial Management
1/6/25 – 3/2/25 (8 Weeks)
Understanding RIsk in Complex Environments
3/3/25 – 5/4/25 (8 Weeks)
Spring Break
3/17/25 – 3/21/25 (1 Week)
Capstone
5/5/25 – 5/18/25 (2 Weeks)
Residency
Capstone Residency
5/19/25 – 5/21/25 (3 Days)
Graduation
Commencement Ceremony
5/21/25
Dates are subject to change