27 June, 2021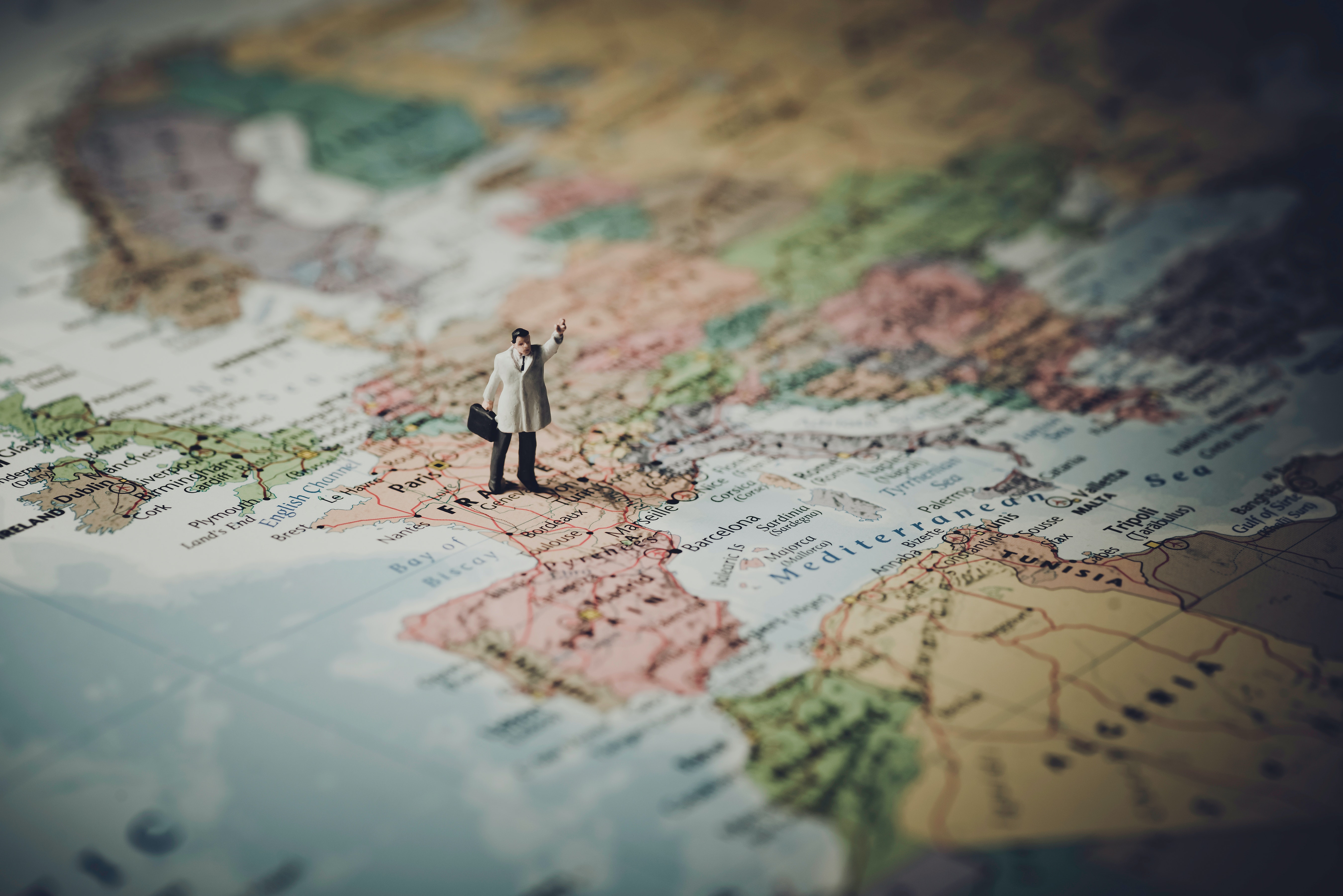 Our world of unprecedented connections in communications, culture, supply chains and trade presents both massive opportunities and serious dangers. The economic needs and the emergencies of nations are deeply intertwined, regardless of geographic distance. In this environment, exchanging resources and accurate information makes an enormous difference in the ability of governments, businesses and nonprofits to take effective action when grave challenges arise.
The COVID-19 pandemic has vividly illustrated how a shared catastrophe can transform the lives of people around the world as well as the need for effective, global response coordination. In a recent Q&A article, Jeremy Shiffman, Bloomberg Distinguished Professor of Global Health Policy at Johns Hopkins University, discussed how differences in the ability to collect and analyze health data impacted the effectiveness of COVID responses in various regions of the world. Factors like a nation's wealth and the metrics used to measure health outcomes can have dramatic effects on the results for populations.
The European Union set out to address these issues with an initiative to share emergency response resources and funds for vaccine research across all of its member states. Nations were forced to weigh the dangers inherent in a range of actions, such as lockdowns and fiscal stimulus, calculating how to roll out initiatives so hospitals weren't overwhelmed and economies didn't descend into freefall. Italy, which had suffered an enormous spike in March, was able to drive its numbers down through strict lockdown measures and help put the EU on the road to a cautious reopening.
Meanwhile, the U.S. has allowed widely varying state-by-state responses, struggling to control new infections, find consistency in messaging, equip healthcare workers with protective gear and provide labs with reagents to process tests. The failure to collaborate effectively with both domestic and international partners has long-term consequences for the lives of citizens, economic recovery and international alliances. For one, the EU barred Americans from travelling to member states even as they reopened to visitors from 14 other countries. The pandemic has made abundantly clear that in a highly connected world, it takes more than ad hoc responses on a local level to contend with our greatest threats.
---
A Globalized World Needs Global Risk Management
Organizations rely on experts who are capable of managing complex interregional relationships and understanding risks that stretch across continents and national boundaries — all while proactively addressing challenges before they turn into crises.
That philosophy drives the Johns Hopkins University MA in Global Risk (online), a program designed to elevate critical thinking and research skills while building proficiency with the quantitative and qualitative tools of risk management. This article will discuss how the educational benefits and career opportunities offered by JHU's master's in global risk degree differ from a typical master's in international relations.
| Master's in International Relations | Master's in Global Risk |
| --- | --- |
| Provides a wide-ranging look at the interactions among states and international organizations. | Focuses on predicting, analyzing and managing risks in international relationships. |
| Builds foundational skills in research and statistics | Presents advanced approaches to statistical analysis and quantitative modeling. |
| Applies multidisciplinary insights from the social sciences and humanities. | Emphasizes using data-driven methods to understand and address challenges. |
| Equips professionals for roles in policy making, consultancy and negotiation. | Prepares students to lead risk management in a variety of international organizations. |
These graduate degrees equip students to work on the forefront of decision making in a rapidly changing, hyperconnected world. However, programs in global risk and international relations focus on different skill sets and perspectives. Here's how each educational path prepares students to lead in a crisis and achieve their career goals.
---
What is a Master's in International Relations?
A master's program in international relations provides an in-depth understanding of the ways that states and other political entities—such as nongovernmental organizations (NGOs) and multinational corporations—interact with one another, encompassing trade, diplomacy and conflict. Established as a distinct field of study in the early 20th century, international relations draws on concepts from a variety of humanities and social sciences fields like political science, economics, philosophy, geography and law.
Experts in this discipline perform research and develop theoretical perspectives with the potential to guide crucial foreign policy decisions and maintain peace. For example, Johns Hopkins University Assistant Professor Nina Hall co-authored a recent study that examined how digital technologies transformed the role that NGOs play in policy making and advocacy around the world by offering powerful new means to connect with supporters and gather feedback.
By completing a graduate education that concentrates on nurturing global networks, students gain the multidisciplinary foundation to work in roles where they perform research, formulate actionable goals, set priorities and strengthen relationships. For instance, a foreign policy analyst might be tasked to report on a proposed overseas initiative by identifying important trends, gathering economic information, developing recommendations and delivering a presentation on their findings.
A master's program teaches the concepts that are necessary to complete projects like these, synthesizing economic and statistical concepts with theories of political and cultural change. An international relations curriculum may delve into topics such as:
Foreign policy strategies
Statistical analysis of market forces
Negotiating international agreements
Ethical concerns in global relationships
How alliances are formed and dissolved
Political systems in the developing world
Dangers presented by nuclear proliferation
The role of third-party mediation in defusing conflicts
Enforcing human rights and preventing mass violence
Systemic economic conditions affecting international trade
The development and amendment of national constitutions
Setting standards for energy production and environmental protections
---
What Can You Do With a Master's in International Relations?
As a discipline that engages with issues affecting all types of organizations, an international relations education can be valuable in a wide range of positions. Through a master's degree program, professionals gain a background in theory and research that's useful to form worldwide connections and solve problems on a global scale. Graduates may progress into international relations careers in federal agencies, multinational corporations, think tanks, lobbying firms or humanitarian nonprofits.
International Relations Job Titles
Diplomat
Foreign Affairs Specialist
Foreign Service Officer
Intelligence Analyst
International Lawyer
International Marketing Specialist
Lobbyist
Management Consultant
Nonprofit Program Manager
Research Analyst
---
What is a Master's in Global Risk?
The history of risk management as a distinct field traces back to the post-World War II era. Researchers and firms responded to a dramatically shifting world by establishing rigorous methods to analyze, evaluate and mitigate events that could negatively impact markets and organizations. Over the decades, risk managers have added value to organizations by identifying areas of vulnerability and responding with systematic processes.
Carefully evaluating risks and determining how to ameliorate them can be a powerful means to protect important assets and prepare for difficult changes. In the wake of COVID-19, for instance, Johns Hopkins researchers helped businesses formulate plans for reopening by creating a risk assessment tool. This systematic process guided leaders through quantifying the dangers posed by everyday operations, identifying what modifications could limit risk, and moving forward as safely as possible.
But the current pandemic is just one example of the way technological advances and globalization have dramatically transformed the risks that face governments and organizations. Global risk emerged as a distinctive area of study because events like the financial crisis of 2007-8 revealed how important it was to account for the highly interconnected nature of our international economic, business, social and political systems.
Specialists in global risk garner multidisciplinary insights and employ analytical software tools to anticipate and investigate emerging challenges. Global risk managers may take on problems that range from preventing a complete shutdown in business operations during a global pandemic to instituting processes for response when a natural disaster disrupts a supply chain.
Graduate education in global risk takes a holistic view of these issues while engaging more deeply with data than is generally the case in international relations. A master's program explores techniques in quantitative analysis and problem solving that enable professionals to plan for the worst with rigor and precision. A global risk management curriculum teaches students how to:
Apply statistical analysis and software tools to evaluate risk and uncertainty
Identify potential challenges for an international organization before they become urgent dangers
Strategize relationships, resources and other factors to minimize the likelihood of a hazardous situation
Model risks and determine the appropriate response by predicting the outcomes from various courses of action
Limit the operational consequences of uncontrollable dangers such as natural disasters, cyberattacks or viral outbreaks
Establish decision making frameworks for dynamic situations involving issues like international conflict and popular protests
Discover the connections between seemingly unrelated events and use quantitative techniques to account for these relationships
Develop recommendations for future development and communicate these ideas persuasively to stakeholders and decision makers
---
How Global Risk Expertise Makes a Difference
Global risk management techniques allow organizations to navigate uncertain situations where any missteps might have significant consequences for people and businesses in multiple countries. In a crisis like the COVID-19 pandemic, international relationships and proactive risk management can make all the difference in determining long-term outcomes. Leaders must have analytical insights into these connections in order to institute effective policies and communicate clearly with both internal and external stakeholders.
Risk management provides those insights by offering a viewpoint on the future of globalization that can influence diplomacy, trade, supply chain management and other interactions. For example, Professor Michael Plummer, the director of JHU's School of Advanced International Studies Europe, co-authored a study that projected the likely results of China entering into a new Trans-Pacific Partnership. The analysis found that China could quadruple the annual global income from TPP but would first need to undergo dramatic political and social reform.
Global risk managers evaluate situations and predict outcomes to determine whether a course of action (e.g. China joining the TPP) is worth the risk (e.g., political and social disruption). This perspective is essential not only for understanding the ways these decisions affect the success of governmental and organizational initiatives but also the well-being of people around the world.
---
Global Risk Management Careers
A master's in global risk provides students with knowledge and capabilities that are highly valuable to a variety of employers. Graduate education in this field cultivates analytical reasoning, collaboration and adaptability, which all rank among the skills in highest demand for 2020 according to a study conducted by LinkedIn. In addition to these widely applicable capabilities, students learn data-driven techniques to assess and ameliorate risks that allow them to lead in a complex world of interconnected needs and shared interests.
Global Risk Management Job Titles
Consultant
Risk Manager/Analyst
Business Management Analyst
Finance Consultant/Financial Manager
Global Risk Management Director
Research Analyst
Employers are increasingly aware of the need for experts in this rapidly evolving discipline. Data from Burning Glass showed that the term "global risk management" appeared in over 400,000 U.S. job postings in 2019, and the field is poised for further growth as organizations strive to extend their reach. Settings like federal agencies, private consultancies, insurance companies, multinational firms and market research agencies require the contributions of risk experts. By applying the latest thinking in risk management, these professionals can guide coordinated responses to an unexpected disaster like the current pandemic, advising leaders on how to institute processes for global governance and achieve sustainable growth under uncertain conditions.
According to Alan Fusetto, director of Global Careers in the Johns Hopkins SAIS Europe, a Master of Arts in Global Risk can be a major advantage for capturing professional opportunities.
"Analytical, writing and languages capabilities are just some of the most important tools global risk students acquire throughout the program," said Fusetto. "These skills are instrumental in landing a job and being successful in the political and globalized risk world."
Studying international relations means exploring how trade, diplomacy and conflicts bind together a wide range of organizations and agencies as they explore opportunities and confront dangers. However, a master's in global risk allows professionals to build their proficiency in the risk management tools, techniques and frameworks that help organizations make better decisions in the face of worldwide challenges — decisions that will shape the future of entire industries, economies and nations.
---
About the Master of Arts in Global Risk (online)
In the Johns Hopkins School of Advanced International Studies (SAIS) MA in Global Risk (online) program, students gain a thorough grounding in quantitative and qualitative risk management tools, modeling and decision-making frameworks. Our cutting-edge curriculum focuses on the specialized knowledge and research skills to analyze complex situations, mitigate dangers and take on leadership roles.
Featuring a faculty of groundbreaking researchers and experienced leaders, the Johns Hopkins SAIS offers a supportive environment that encourages collaboration and ongoing improvement. Our students participate in two in-person residencies and have opportunities to expand their professional networks. Johns Hopkins University ranks among the top 10 national universities and top 11 global universities, according to U.S. News & World Report and was named one of the best schools for international relations by Foreign Policy Magazine.
Disclaimer: This content has not been peer reviewed and is for informational purposes only.